The new OPTOTRONIC DALI NFC I provides optimal lighting in offices and educational facilities – and wins points for its simplified, independent installation
Concentrated work and efficient learning indoors are directly related to the right lighting. With OPTOTRONIC DALI NFC I, OSRAM DS now offers the ideal LED driver for linear and surface modules in panels, but also in round modules for downlights in offices and educational facilities.
Thanks to fast NFC programming and state-of-the-art DALI features, high light quality, and the TouchDIM / Corridor Function, your luminaires ensure optimum lighting comfort in schools, universities or conference rooms, to name just a few examples. Due to its special design, the LED driver achieves excellent thermal robustness that complies with IEC standard 60598-1:2020. This makes it the perfect choice for flexible flush mounting and offers your customers more freedom in installation.
With optional wattages of 25, 35 or 60 watts, an output voltage range of 15 to 54 volts, and an output current range of 180 to 1,400 milliamperes, OTI DALI NFC I can flexibly fit to any installation. High quality of light is ensured by very low ripple and amplitude dimming down to 1%. In addition, the LED driver offers a broad selection of programmable features such as Constant Lumen Output (CLO), Dim-to-Dark and Soft Switch-Off for fine-tuning the installation. TouchDIM / Corridor Function as well as emergency lighting capabilities complete the palette of options.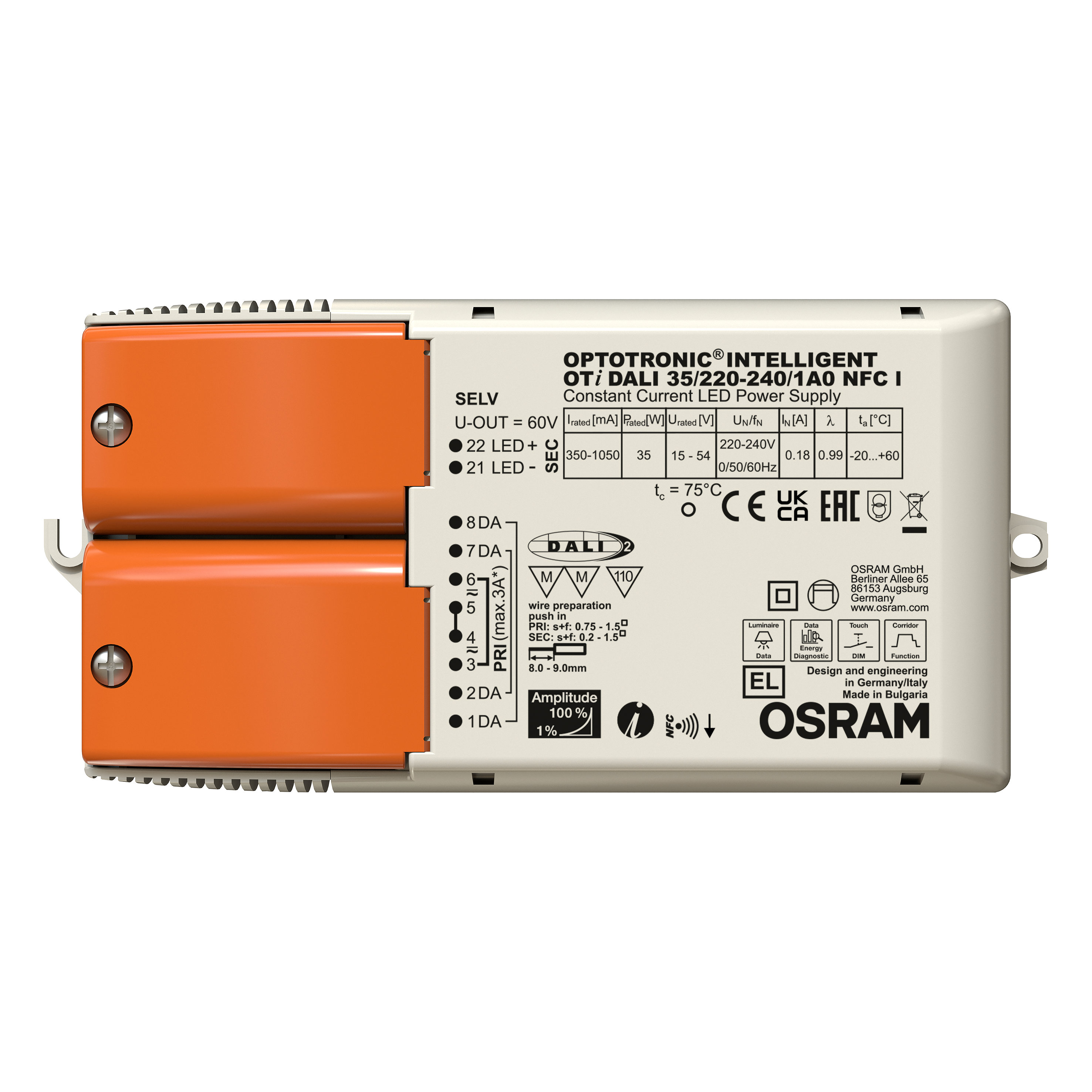 With the included DALI Parts 251 to 253, you'll be following the trend for modern buildings and offering your customers more control over maintenance and energy consumption. Fast NFC programming, including time-saving box programming, makes this all-around talent particularly attractive in luminaire production.
The integrated cable clamps and additional terminals for looping through mains and DALI cables make it a true all-round performer. No further accessories are required for installation. In combination with the innovative LED module PrevaLED Linear OP for surface and recessed luminaires, you get an optimally matched, future-proof system and thus a perfect luminaire for modern, functional and interior design.
For the optimal installation of your all-round, worry-free package, we offer you a one-stop shop and individual design-in support.