Good work needs good light. On the other hand, offices in particular often consume unnecessarily large amounts of electricity – and money – for lighting.
Clever sensor-based solutions, innovative IoT concepts and energy-efficient products from us ensure that the light in offices is switched off or dimmed down where and when it is not needed. And is used with maximum efficiency to optimally support people in their work.
Would you like to be able to provide office lighting solutions that are more focused on energy savings than ever before? OSRAM DS can help you do just that! With reliable support, efficient components, state-of-the-art light management systems and other sustainable products that are perfect for use in offices. From individual rooms to open-plan offices to entire office buildings. Whether as a classic wired or as a wireless solution. The choice is entirely yours!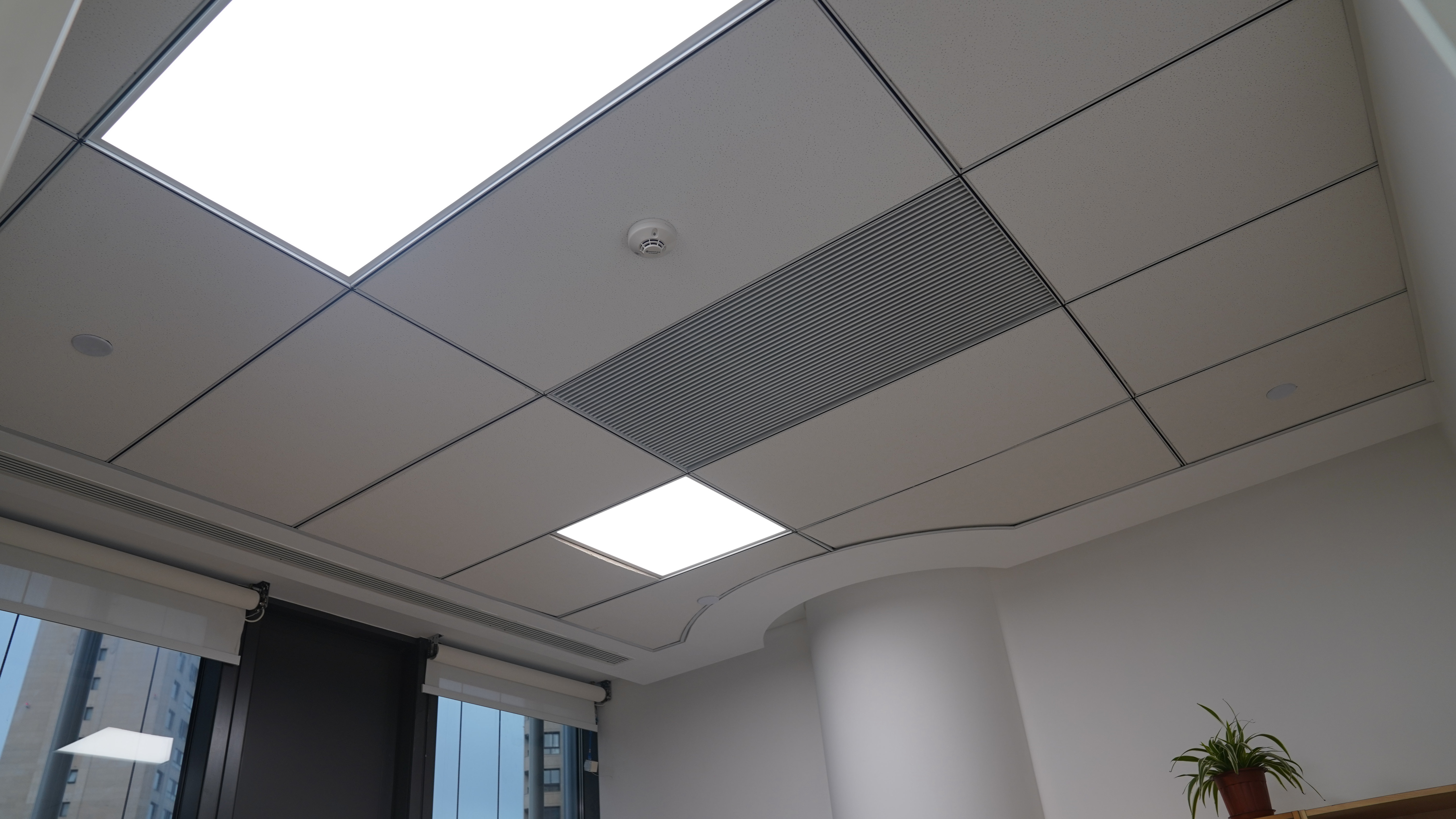 This already starts with the individual components. On our new PrevaLED Linear OP and Basic Linear OP LED modules, for example, the individual LEDs are equipped with optics. This not only ensures particularly homogeneous light distribution, but also leads to a cost/performance-optimized LED luminaire. On the one hand, the optics allow larger distances between the single LEDs and therefore reduce the number of LED rows per panel. On the other hand, this avoids additional diffusors as the optics already provide more homogeneity than standard modules. Ceiling luminaires can thus be built even slimmer and more elegant. Optimal optics, convincing cost-benefit factor!
We offer LED drivers for wired and wireless lighting systems. Our all-new driver family OPTOTRONIC Wireless intelligent (OT Wi for short) is perfectly suited for wireless solutions. Thanks to its slim form factor, this driver can be perfectly installed, for example, into 60 x 60 recessed ceiling luminaires, which are used in many offices around the world. This is because the wireless module is already integrated into the LED driver, and there is also no bus cable or wireless dongle, which reduces the number of components and the wiring within the luminaire. The driver family is available as a Qualified Bluetooth Mesh (QBM) or Casambi (CA) version. This is how future-proof works today!
And for those who prefer the proven wired solution, there is the new ICUTRONIC DALI CS, a compact LED driver that is connected outside the panel luminaire body and then simply placed in the suspended ceiling. ICUTRONIC is our cost-optimized LED driver with basic features. It allows you to provide inexpensive luminaires – which are usually only equipped with an on/off driver – with a DALI interface. Just use the ICUTRONIC LED driver instead of the on/off driver!
Speaking of proven: Our HubSense system is already in use in many offices. It is based on Qualified Bluetooth Mesh and needs no central controller. This means that it's an excellently scalable solution – applicable from one wireless driver and one wireless switch up to a fully sensor-controlled office building. The advantages? Many! For example, the limitations of bus wiring no longer exist. And office lighting can be conveniently configured and controlled simply by using a smartphone.
Tuner4TRONIC, our programming solution for LED drivers, is also very efficient. With this powerful and versatile software and near-field communication (NFC), luminaire manufacturers, thanks to wireless driver configuration, save lots of time, money and material during production – and can still react flexibly to current market requirements at any time.
In addition, we offer the Tuner4TRONIC Field App. It allows changing the parameters of our LED drivers in the field. The app can be applied to quickly adapt the lighting settings if the user is not satisfied with them. But it also reduces device replacement time and cost by allowing company electricians to scan the configuration of a damaged LED driver via NFC and then upload all parameters to the new driver.
Without state-of-the-art sensor technology, contemporary office lighting would be almost inconceivable today. After all, who wants to keep getting up from their workstation to readjust the lighting? DALI-2-certified sensors from us contribute significantly to keep power consumption in offices as low as possible. They are the basis of any energy-saving system and provide occupancy and brightness information for switching off the light in absence and daylight harvesting during the day. Thanks to the established DALI-2 standard, they are compatible with many controls from different manufacturers.
Energy is becoming more and more expensive, so energy monitoring is also becoming increasingly important. With our DALI PRO 2 IoT, the lighting technology of entire floors and even complete buildings can be controlled. With its Dashboard, this high-performance light management system enables its users to continuously track the energy consumption of the lighting system. It also provides functions to assist maintenance, e. g. for regular emergency lighting tests. Thanks to its powerful REST API, DALI PRO 2 IoT can be easily integrated into the IoT world.
Our engineers are constantly working to improve our products and to meet the requests and requirements of the market. We have now made one of our bestsellers even better: Our robust pushbutton controller DALI PCU G2 now has a DALI-2-certified interface and can control and dim both regular and Tunable White LED drivers. Simply brilliant, because brilliantly simple – like practically all solutions from us!