OSRAM Digital Systems is now part of Inventronics.
The same people will support you
with the same quality products,
the same services and more
– as in the last 111 years.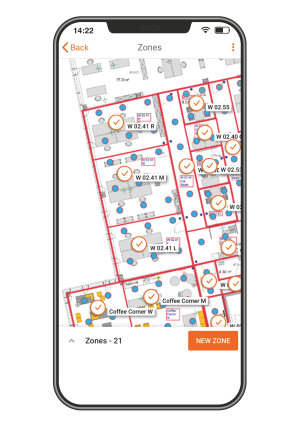 From conventional to intelligent: HubSense
With HubSense, we offer the possibility of transforming existing lighting systems into a flexible, wirelessly communicating lighting infrastructure during modernization. How does this work? Without great effort! Because HubSense is simple and intuitive. This easily scalable retrofit solution makes the planning, configuration and commissioning of wireless lighting control easier than ever before – from convenient planning with the web app to commissioning via smartphone and mobile app to simple operation of the system – for individual offices, corridors, conference rooms or open-plan offices.
With the HubSense system you work more cost-effectively in every project phase – from planning and installation to handover and use.
Find easily your desired products with our Online Tools
Lighting Designer
The Lighting Designer online tool helps to identify the right combination of LED modules and driver based on your technical specifications of your luminaire project.
Driver Selector & Digital OT-Poster
With our Driver Selector & Digital OT-Poster you can simply find your desired LED driver and create your individual driver overview by selecting the product families, characteristics, features, applications or filter by attributes for your needs – always with the latest product portfolio.
Digital Flex/Area-Poster
With the digital Flex/Area-Poster you can simply create your individual OSRAM LINEARlight Flex or Back/BoxLED overview by selecting the product families, classes and attributes you are interested in – always with the latest product portfolio (daily updated).

Inventronics is glad to welcome you to Light + Intelligent Building Middle East,
taking place from 16 to 18 january 2024 in Dubai World Trade Centre, stand Z3-F29.
Latest News
Search only Expert posts
Search in all content
On November 21 and 22, Inventronics was a part of the enthusiastic and dynamic atmosphere of the UK lighting specifiers market, joining LiGHT23 at the Business Design Centre in London. The two-day exhibition specifically focused on lighting specifications, presented by [d]arc media with about 3,500 … [more]